Avocado Cleanser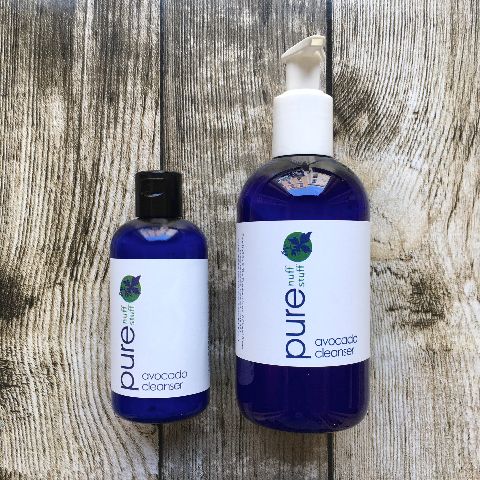 Cleansing lotion with avocado oil and kelp powder.
Log-in to add items to your wishlist
Description

A really hard-working product, this nourishing and cleansing cream uses fresh green avocado oil – rich in vitamins, protein, lecithin and fatty acids – suspended in pure rosewater to clean away daily grime and make-up. The very finely ground kelp gives it some scrubbing action, but it's perfectly safe for use around the delicate eye area, too. We haven't added any essential oils to this product because it simply doesn't need them; its heady rose scent comes from the rosewater alone.

We don't make a different cleanser for different types of skin, we make two toners with different flower waters and oils and we encourage you to use our products in the way that suits your skin best. If you have very dry skin, you might find that what suits you best is to apply Avocado Cleanser with cotton wool (or our fabulous, eco-friendly Washable Cleansing Pads), without rinsing afterwards. If you have oilier skin, then you might find that applying it directly to your face and working it in with your fingers, then rinsing, suits you better. Experiment with both these methods and find out - your skin is completely unique, it's time to take back control of how you live in it!

100ml (perfect for travelling or your gym bag!) & 250ml (great value and comes with a pump dispenser)

(Shipping weight 115g & 245g)

Ingredients

Ingredients in descending order of proportion. Click an ingredient to find out more.
Product Testimonials Avocado Cleanser
My skin is transformed in a day... I didn't realise my old cleanser was irritating my face (as I'm generally a bit pink) until I used this and I look like I have pretty normal skin! So pleased :)

Elizabeth Slate
Aw that's great, so happy for you Elizabeth! - The Pure Nuff Stuff Team
Magic in a bottle! My skin has felt so soft since using and I swear looks clearer as well (I qualify as "mature" at 50 - in age at least :-D )

Karen Johnstone
Thanks Karen, that's a lovely thing to hear, so pleased you're happy! - The Pure Nuff Stuff Team
I was very pleasantly surprised to use this trial size and will be ordering the full size. It was gritty which concerned me, but I used it around my eye's and it was lovely and gentle weirdly. It removed ALL makeup which is amazing as I wear such a lot. It did not aggravate my rosacea at all, my major skin concern. I can recommend this without hesitation!

tana whitmore
Wonderful! Thanks. My poor sore skin actually felt happy and looked less angry after only 1 use. I am a convert!

Kate Horrill
Astoundingly effective. When 1st massaged on it feels as thought its not going to cleanse anything but removed with the cotton wash pads and water it leaves my skin clean and not red!

Kate Willmoth
I love this cleanser, it's been great for clearing my spot prone skin. It's gentle enough not to irritate my skin and eye area which can be prone to excema. My skin hasn't looked this clear in years!
Thank you.

Lisa