Hair Wax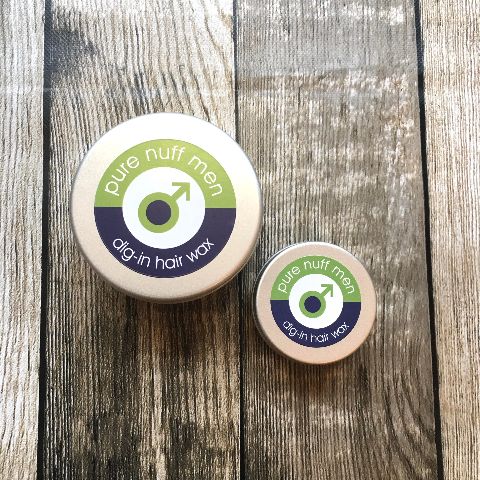 Natural hair styling product.
Log-in to add items to your wishlist
Description

Perfect for creating a slick, sharp look while treating your hair to some fabulous natural oils and butters to add shine and condition. Left completely unscented so it doesn't clash with any other product.

30ml (Shipping weight 40g) or 100ml (shipping weight 120g)

Ingredients

Ingredients in descending order of proportion. Click an ingredient to find out more.
Product Testimonials Hair Wax
I am sensitive to perfumes, and I've searched high and low for a wax without perfume. So glad I've found one - it does the job well.

Elizabeth Hadden
Brilliant product for women and men
"does what it says on the tin"
Love it

Gillian
Thanks Gillian! - The Pure Nuff Stuff Team
only hair product i can use because has no smell and is non greasy too...best hair wax product i have ever used...only 1 will ever buy

william
Great level of hold for everyday, smells great, and even keeps my cuticles soft. Could definitely lose the "men" symbol tho: this wax is for people of any gender who have hair.

So
The best wax ever.

Peter
This wax had VERY little styling effect on my fine hair and it made it look greasy. I'm very disappointed.

Yvonne
Hi there Yvonne. I'm really sorry the wax didn't work for you, it is an oil-based product and well, that can be heavy on some hair. Some people find they need to use an awful lot less of it than they do with other styling products, I wonder if that might be the case here? Either way, I hope it doesn't put you off trying other Pure Nuff products and thanks for your feedback, it's always useful to have. - The Pure Nuff Stuff Team
Absolute rubbish. Has zero hold on the hair!! In the hand it melts away to nothing!! And, there's enough in the tin to last two uses...Regretting purchase RESPONSE FROM PURE NUFF STUFF Hi there Kenny, we're really sorry you didn't like the wax, it's made of oil so yes, I guess it does kind of melt in your hands, we have to hold our hands up to that one. I wonder perhaps if you'd used a bit less of the product (most customers reorder every couple of months if that helps) then you'd have found it more effective. In any event, I hope it's not put you off us and next time you order, pop a note on the Special Instructions field and I'll see how we can make it up to you.

Kenny Scott
Your hair wax arrived today and I put some on my hair straight away. It is just what I wanted. Non greasy, easy to apply and doesn't matt my hair and doesn't have any scent! Yes!! So pleased with it. Thank you. I shall be ordering the bigger size tin in future now I know it suits me.

Jon
It's good but not good enough.

Jesper
I love this product - not sure why marketed as men's as just as relevant for women with short hair. Nice balance of shape and shine

Hilary
its good. Its not quite firm, in my experience it really just takes the frizz out of big hair, replacing oils after washing, rather than holding a style as much, but just what I wanted.

Chris
Best hair wax ever , easy to apply , not greasy and more importantly for me no perfume. Not just for men also for women with allergies.

Elaine Brown
I'm allergic to anything with even a hint of perfume in, so this wax is the first time I've been able to use a hair product in over 20 years!! It's amazing and works so well too. Just brilliant!

David Vieira
Love this stuff. It's the only wax I use. So natural!

Matthew Batte