Sugar & Almond Scrub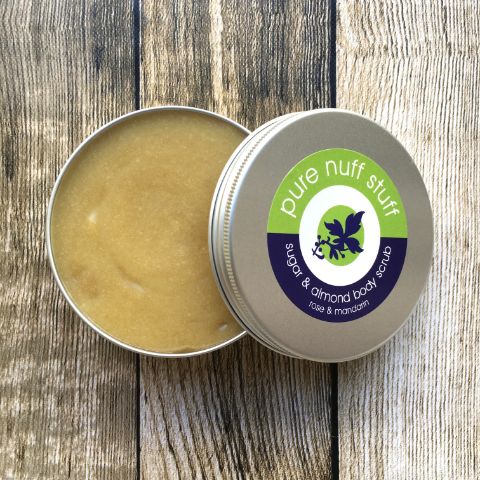 Gentle body scrub, scented with sumptuous rose & mandarin
Log-in to add items to your wishlist
Description

A body scrub balm made with rich almond oil and unbleached sugar. You've been asking for a replacement for our Shower Scrub Salts for a while, so we've listened. This is an incredibly rich mixture laden with sugar to softly exfoliate and moisturise at the same time. The almond oil, shea butter and olive oil and beeswax suspend the sugar so it's ready for you to scoop out and apply with your hands, working from your extremeties toward your heart, as usual with exfoliating. This is a stunning product to use before applying tanning products for example, but sometimes it's just nice to have a good old scrub. As it's such a rich balm, it might be a good idea to do this in the shower or bath so you can wash off the sugar easily and a little bit of soap will take off any excess balm. The combination of rose and manadarin essential oils is a new one for us too, but we're a bit in love with it. The mandarin gives the rose a fresh twist, keeping it light and airy.

The scrub can be used all over your body, it's too rough to use on your face but it's amazing on legs and arms. Or give a special treat to yourself and use it before a manicure or pedicure for a huge extra boost of moisture. We discovered a great use for it as we were testing it, it's also a brilliant pre-shaving product to use in the shower. Slather your legs in the balm, scrub away to loosen rough patches and gently rinse off the sugar, the remaining oil left behind on your skin provides great slip for your razor and still leaves your legs feeling superstar smooth.

240g shipping weight

Ingredients

Ingredients in descending order of proportion. Click an ingredient to find out more.
Product Testimonials Sugar & Almond Scrub
Used this scrub for the first time today having been given as a gift in a presentation pack. So pleased with it. Easy to use, lovely scent, and it left my skin feeling very soft and moisturised. Will definitely add to my regular products in future. Thank you PNS - you never disappoint.

Sylvia Westbrook
Oh thanks Sylvia, that's made our day! - The Pure Nuff Stuff Team