Nourishing Night Cream - Scented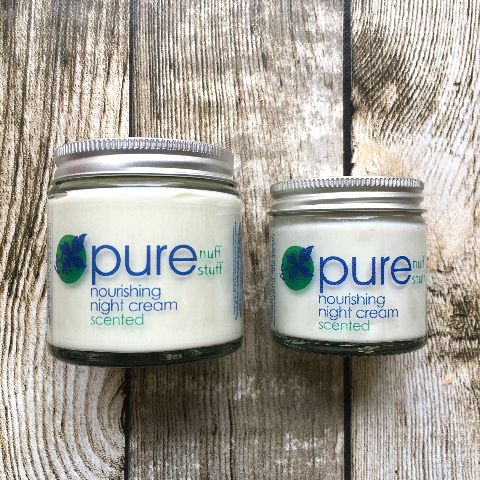 Rich and oily moisturising cream.
Log-in to add items to your wishlist
Description

Your body carries out most of its repairs at night while you're asleep, so we've created Nourishing Night Cream to help it do all the work while you rest. A powerhouse combination of coconut, apricot kernel, avocado and jojoba oils, together with cocoa butter, makes this the richjest cream in the range. And there's more: we've added a carefully selected mix of no less than eight of some of the most powerful essential oils too (neroli, lavender, fennel, rosemary, lemon, frankincense, carrot and evening primrose oils), all chosen for their regenerative and restorative properties – and which have the happy coincidence of smelling wonderful together.

Many of our more mature customers, as well as those with particularly dry skin, use this as both a day and a night cream. Simply experiment with what works best for you. Nourishing Night Cream is also available Unscented for those of you with sensitivities to essential oils.

60ml & 120ml

(150g & 240g shipping weight).

Ingredients

Ingredients in descending order of proportion. Click an ingredient to find out more.
Product Testimonials Nourishing Night Cream - Scented
This cream is beautiful, rich but not greasy, it looks after my skin so well and I love the scent and the feel of it and how my skin feels and looks. I use it as a day cream as it is so gorgeous!

Victoria Wright
Thank you so much Victoria! - The Pure Nuff Stuff Team
Nice thickish texture, luxurious aroma, makes me feel good and doesn't make false promises.

Julia S
This is gorgeous, I'm using it night and day as the Dream Cream left my skin feeling a little tight by the afternoon. I do have very dry, eczema prone skin so please don't take this as any form of criticism of the lovely Dream Cream, which I will keep trying when the cold spring winds have vanished (I work outdoors a lot).
The night cream leaves my skin feeling soft and plumped and the scent is heavenly! Thank you, I love it.

Siue Allen
This cream is my favourite. Absolutely love it. The smell is not very harsh and I keep coming back for this lovely every time. I wear them every time even as a day cream. Please don't stop them. I would love to have the exact same one as a day cream with SPF if you could make them in the future. They are my all time favourites. I have recommended this to my mum too and she loves it too.

Shital Subba
Im using the frankincense night cream and i absolutely love it. Feels like a ritual before going to bed. I have only used oils for the past few years to avoid any chemicals, but these creams are excellent and i feel confident and safe to use them.

Judit
Love love love this cream! It made a difference on my dry skin right away. Makes my face feel extra soft and glowy. And the smell is absolutely lovely. I want to try all of the creams now!

Marie
Thank you so much for your kind comments, we really appreciate you taking the time to let us know you're happy. - The Pure Nuff Stuff Team
I tried the sample size of this product first. Agree with other reviewers about the smell, so gorgeous. Unlike any face cream I have tried it feels so soft and warm. It moisturises but not greasy, just sinks into the skin. Loved it so much I have bought full size jar. Am just about to try sample size of day cream next. Love that you have option of ticking no plastic wrapping option too.

Janet Cook
So pleased you're so happy - and that you approve of our efforts to keep plastic out of the mailing process, it's hard avoiding it altogether but we'll get there! - The Pure Nuff Stuff Team