Handwash Refill Sizes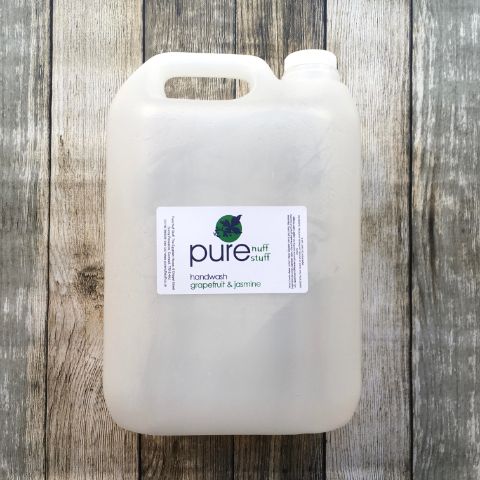 SLS and paraben free handwash.
This product has a purchase limit applied, you cannot buy more than 1 of any variation of this product.
* Products marked have a purchase limit applied. The number in parentheses represents the maximum that may be purchased in a single transaction. Your cart will only accept up to the specified quantity for each.
Log-in to add items to your wishlist
Description

Our brilliant Handwash will remove dirt and grime quickly and easily without harsh detergents drying your skin. Our sweet blend of Grapefruit & Jasmine essential oils will wash awah grime and leave your hands soft and fresh. Perfect for guest rooms. Buying this Handwash in a bulk format you are not only making a saving on product but also in packaging, which the planet will also thank you for. Due to the weight of these larger sizes they have to be sent via courier, this is included in the overall price.

Larger size orders need to be placed by Monday evening as they are made fresh on Tuesdays. This product can only be shipped to the United Kingdom.

Ingredients

Ingredients in descending order of proportion. Click an ingredient to find out more.
Product Testimonials Handwash Refill Sizes
As a BnB business owner who trys to run as sustainably as possible l have researched high and low for products which have as little negative impact on the environment as possible. Purenuffstuff makes really high quality and lovely products. The handwash is gorgeous, smells fresh and most importantly for me is SLS and paraben free, and does not contain the eco-disaster ingredient Palm oil. Thank you Purenuff for sticking to your principles! Highly recommended.

JENNY WINDSOR
Thank you so much, from one small business to another, you know this sort of support means the world to us. - The Pure Nuff Stuff Team