Heavenly Hands - Lavender & Marjoram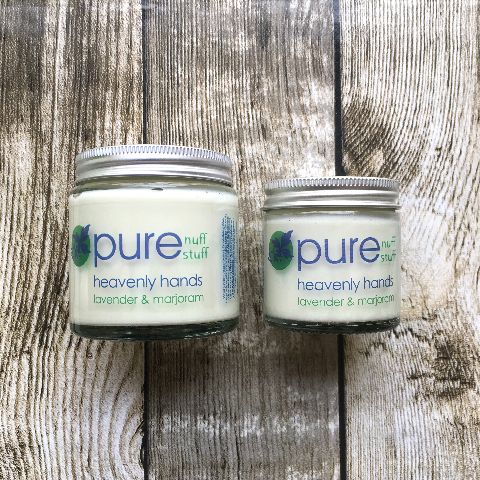 Hand cream with olive oil, scented with lavender and marjoram essential oils.
Log-in to add items to your wishlist
Description

Hands are particularly prone to dryness as they are constantly in use or in water, so it's time to let them know you love them - they're on show just as much as your face, remember. Enriched with Vitamin E and aloe vera, this olive oil-based cream is both soothing and healing but, best of all, it sinks immediately into your skin so you can still open a door once you've rubbed it in. Lavender and marjoram essential oils aid the healing effect and also give it a pleasant smell without being overly-flowery, so the menfolk won't shy away from it either.

Heavenly Hands has been awarded 9/10 by Natural Health Magazine and is described as 'miracle cream' by one of our customers.

60ml & 120ml

(Shipping weight 150g & 240g)

Ingredients

Ingredients in descending order of proportion. Click an ingredient to find out more.
Product Testimonials Heavenly Hands - Lavender & Marjoram
love it - easy to put on and non greasy

amanda
I adore this hand cream and have been using it for years! It has stopped the eczema on my hands and kept the skin really supple, but without a thin slippery "film" on the top of the skin like many other lotions had done. I LOVE this scent - I find it very relaxing to breathe it in and when I'm wearing it others ask me what the lovely smell is. :D Soooo glad they kept the original combination of scents in addition to the new one!

Mary Davis
Oh thank you so much Mary. we love that scent too, it's one of those not broken so don't fix things isn't it? Thanks so much for taking the time to write a review too, we really appreciate it. - The Pure Nuff Stuff Team
I was given this as a gift and even though lavender isn't my favourite smell, I really like the cream. Soaks in really quickly and definitely helps dry skin.

rachel gwennap