Shampoo Unscented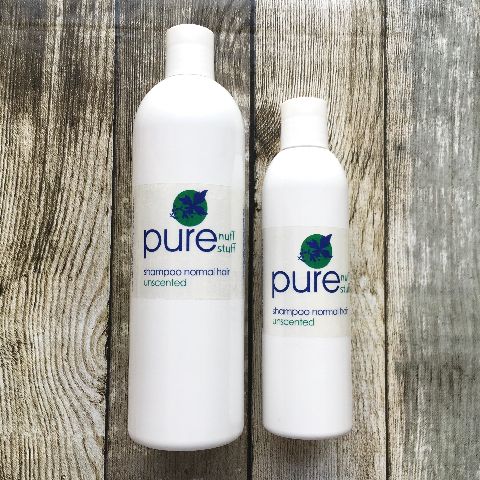 Scent free hair cleansing shampoo.
Description

Our hair cleansers use a mild, natural, sugar-derived detergent that will clean your hair without stripping it of protective oils. The Normal Cleanser is made for people with generally healthy hair, tending if anything towards oily, to leave your hair soft and manageable. The Dry Cleanser is aimed at those of us with dryer or colour-treated hair; it uses a thickener called guar gum, which is also a great hair conditioner, and includes aloe vera. If your hair is dryish but quite fine you may find it works well without another conditioning product.

We don't encourage you to wash your hair twice (that's just a con to get you to use twice as much shampoo, by the way. Do you wash your hands twice? No, so why put your hair through that?) so this bottle lasts a long time. Remember this product is fresh; it needs to be shaken every time you use it.

250ml & 500ml

Shipping weight 290g & 550g

Ingredients

Ingredients in descending order of proportion. Click an ingredient to find out more.
Product Testimonials Shampoo Unscented
I have used this for the past couple of years and my curly hair has never been better! I wouldn't use anything else now.

Dee Hagan
Just used this for the first time and am amazed at how much less irritated & tight my scalp is and there is much less flaking and plaques (have psoriasis all my life particularly on scalp) am really pleased

S Ray
I have used the unscented hair cleanser for years now and would be lost without it as I can't use any of the major brands. It also is kind to my highlighted hair, the colours lasting well. Judith Wann

Judith Wann
I don't think there is a product that I haven't tried over several years that has given my scalp any relief until I tried your cleanser, hooray!!!

Gordon Cessford
Delighted with this unscented hair cleanser it is the only shampoo I can use on my sensitive skin

Anita
I have been using this unscented hair cleanser for several years now. I have long, wavy, thick hair. I wash my hair once a week, and tried their suggestion of one wash only. Although I have to use a good-sized blob, the 'one-wash' once a week thing makes the bottle last a good couple of months. It feels nice to cleanse my hair with something gentle and pure.

Caroline Beevis
Thanks Caroline, so pleased that's working out for you! - The Pure Nuff Stuff Team