Enamel soap dishes, trays and tumblers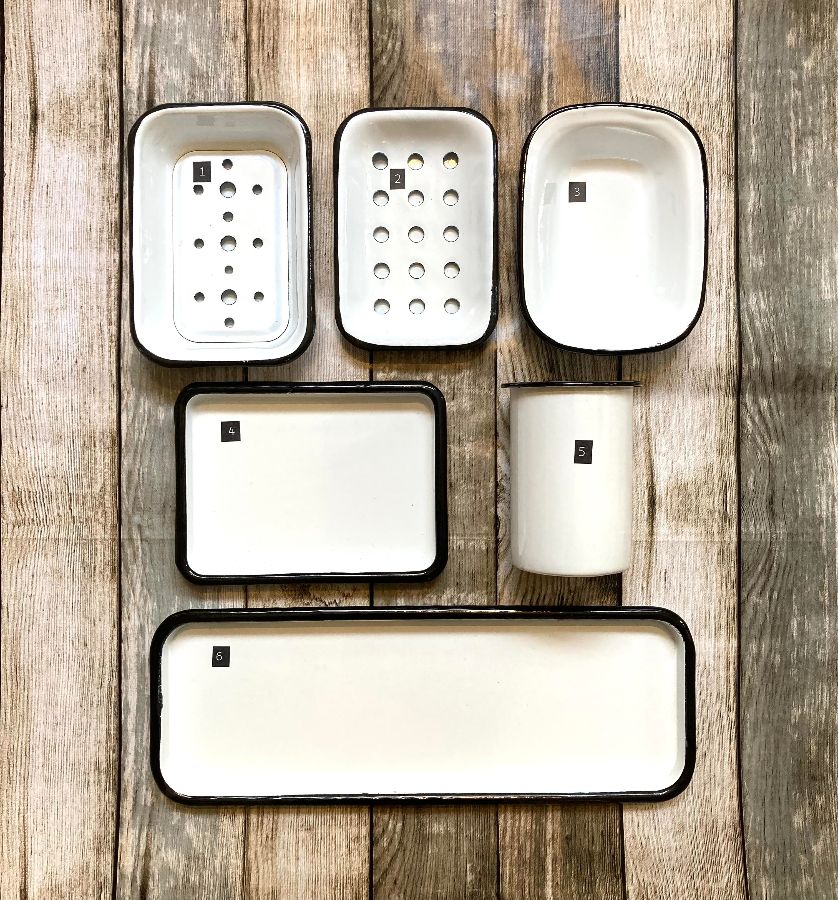 Log-in to add items to your wishlist
Description

A larger than average soap dish incorporating a draining tray in white enamel with black trim. It's 15.5cm long, a generous 10.5cm wide and 2.5cm high. This is the sort of thing that will last a lifetime and just look better with age. They're so easy to clean and it sits very nicely with the enamel trays and tumbler.

Simple and beautiful, this well designed soap dish with integral drainer will do the job forever. Measuring 15.5cm long, 10.5cm wide and 2.5cm high, they're also very easy to keep clean.

These white enamel dishes with a beautful black edge are the perfect size to display a few soaps you've not started using yet, or to keep your bamboo bath scrunchie dry in between uses, or even to house your nail brush - things always look smarter when they're kept in place. They're 12cm wide, 15.5cm long and 4cm deep and they will look exactly this good in another 20 years.

The smaller tray is 12.7cm wide and 2cm high, but just 17cm long. It would look every bit as good at the side of the kitchen sink holding dish soap and brushes. We love the weight of this Danish range and think the updated bland and white colour scheme keeps the timeless elements of the design feeling contemporary.

The tumbler is 12cm high and 8cm in diameter and does the job of being a tumbler with quiet dignity.

The trays are incredibly useful either in the kitchen or bathroom - this longer one is 35cm long, 12.7 wide and 2cm high and can be used to keep soaps and toothbrushes, hairclips and nail brushes all together and tidy.