Heavenly Hands - Citrus Wood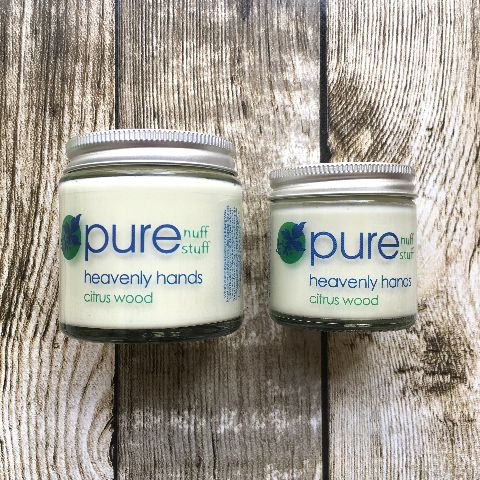 Natural hand cream made with olive oil.
Log-in to add items to your wishlist
Description

This natural hand cream with olive oil and aloe is great for hard working hands. We thought it was about time we had a new scent for this amazing cream and here it is. Fresh and uplifting, this blend of cedarwood, mandarin, lavender and rosemary is a heady mix with some impressive healing power. The woody tones of cedarwood and rosemary keep it earthy and grounded, while the mandarin and lavender give it lightness and freshness. It's still the same ceam that sinks in beautfully, yet moisturises deeply that you're used to, just with a fresh new smell.

Hands are particularly prone to dryness as they are constantly in use or in water, so let them know you love them - they're on show just as much as your face, remember. Enriched with Vitamin E and aloe vera, this olive oil-based cream is both soothing and healing but, best of all, it sinks immediately into your skin so you can still open a door once you've rubbed it in.

Heavenly Hands has been awarded 9/10 by Natural Health Magazine and is described as 'miracle cream' by one of our customers.

60ml & 120ml

150g & 240g shipping weight.

Ingredients

Ingredients in descending order of proportion. Click an ingredient to find out more.
Product Testimonials Heavenly Hands - Citrus Wood
Best hand cream on the market..my hands are notoriously dry, crack in the winter, this cream has stopped all this happening, sinks in without being greasy and smells divine!

Lesley
Thanks so much for taking the time to let us know you're happy Lesley, we really appreciate it :) - The Pure Nuff Stuff Team
Lovely cream that absorbs quickly and leaves hands soft and smelling fresh. Look forward to trying the lavender & marjoram :)

Jodie Ward
Rich cream that absorbs well and doesn't leave your hands slippery; lovely and unusual scent

Sam
Smells delicious and really hydrates the driest of skins without leaving a slippery film on your hands. I'd say one of the best hand creams I've ever tried.

Amy
Love everything about this hand cream, as do other family members. Regularly purchase this as I don't like to be without a pot.

Anna
Gorgeous!! my hands feel so soft after using this - love it xx

Tullia Randall
Thanks for letting us know you like it! - The Pure Nuff Stuff Team
One of the best products I've ever used. I use this hand cream as a day cream, a night cream, a cure-all for kids' dry skin spots...and the best hand cream I've ever tried. It's fresh, light - and does the trick.

Shona Isbister
Aw, thanks for that! - The Pure Nuff Stuff Team
I love this cream. The scent is gorgeous, woody and fresh at the same time. Keeps my hands soft and hydrated. Very nice, can highly recommend.

Malene Lotz
Best hand cream ever; combine it with body bliss if my hands are really suffering after heavy duty gardening and nothing can beat it

Kate Wyatt
Thank you so much Kate, my Nan would be so proud her recipe is still so loved! - The Pure Nuff Stuff Team
Ideal for very dry and sensitive skin, leaves your hands really soft and not greasy at all. The scent is fresh and lovely.

Claudia