Lip Balm - Unscented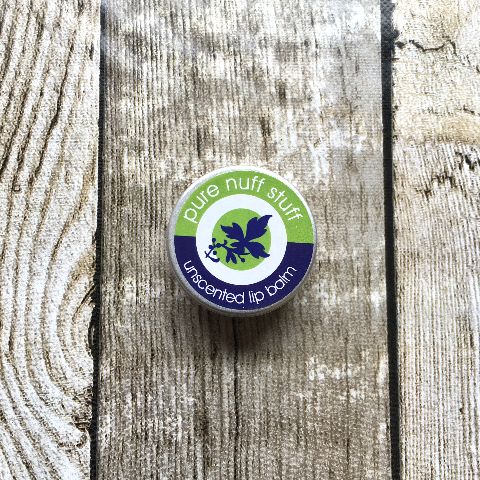 Beeswax based balm for lips
Log-in to add items to your wishlist
Description

Smooth and soothe dry and chapped lips brought on by sun, cold or wind. Our blend of olive oil, cocoa butter, calendula oil and Cornish beeswax will restore moisture lost in the great outdoors. The recyclable tin is small enough to carry with you at all times. And remember, this is a great all-round moisturiser, too. So, as well as being lip-smackingly good, it's also a brilliant on-the-go treatment for any odd dry patches that appear elsewhere.

15ml Tin (Shipping weight 20g)

Ingredients

Ingredients in descending order of proportion. Click an ingredient to find out more.
Product Testimonials Lip Balm - Unscented
This is the best lip balm, not just for lips, for all dry skin. I am never without at least one... I could not be without it.

Victoria Wright
Oh that's fab, thanks so much for taking the time to write a review, it really means a lot to us. - The Pure Nuff Stuff Team
This has been amazing during chemotherapy. Not just for lips, but it has also been the only product that has improved my dry, split chemo fingertips

Frances
Thanks Frances. Wishing you every good thing for the rest of your treatment too, kick this thing to the curb, OK? Huge love from all of us here xx - The Pure Nuff Stuff Team
This lip balm is fab. So moisturising. I've tried others where 10 minutes later your lips feel dry again but not this little pot of lovely. Multi tasker too - isolating with Covid and it's helping both my lips and nostrils stay pain free!Thanks for this little beauty

Karen Johnstone
If my lips are particularly dry I like to apply this before lip stick. Great product.

rachel gwennap
I've used this lip balm for a few years and wouldn't buy any other brand. It really moisturises and sinks in so you don't have to keep reapplying. Other ones I've tried just sit on the surface then dry out. Fabulous under lipstick too. Great price. Great product. and pure! Thoroughly recommend

Karole
Thank you so much Karole, really appreciate you taking the time to let us know you're happy. - The Pure Nuff Stuff Team
I have an allergy to perfume which has made life with cosmetics pretty tricky and my lips especially react to any chemical whatsoever even if it is not perfume! This lip balm has saved my skin literally! I am an outdoors person so rely on it completely but my lips have never felt so pampered. Thank you so very much...deeply grateful and deeply moisturised!

Tracey Morais
It's great to hear that you're comfortable, sometimes it's the simplest things that are the most powerful, we're deeply delighted you're so happy x - The Pure Nuff Stuff Team