Heavenly Hands - Unscented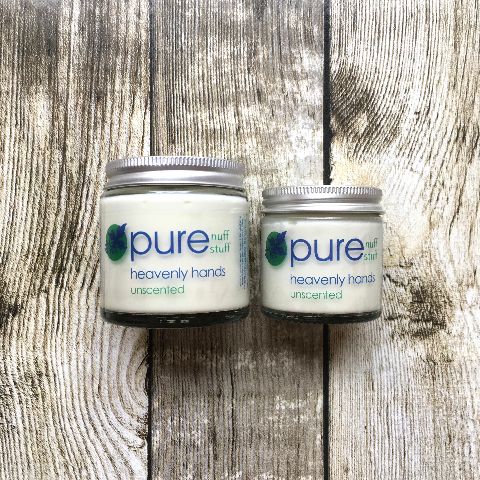 Scent free olive oil hand cream.
Log-in to add items to your wishlist
Description

Hands are particularly prone to dryness as they are constantly in use or in water, so it's time to let them know you love them - they're on show just as much as your face, remember. Enriched with Vitamin E and aloe vera, this olive oil-based cream is both soothing and healing but, best of all, it sinks immediately into your skin so you can still open a door once you've rubbed it in.

Heavenly Hands has been awarded 9/10 by Natural Health Magazine and is described as 'miracle cream' by one of our customers.

Sample size, 60ml & 120ml

(Shipping weight 150g & 240g)

Ingredients

Ingredients in descending order of proportion. Click an ingredient to find out more.
Product Testimonials Heavenly Hands - Unscented
Thank you for your time & advice when I called in asking if you had any product o ease the constant itching caused by my stomach stretching with pregnancy.
Your bump oil is fabulous & certainly helps with the stretch but didn't stop the itch.
You kindly recommended trying this rich hand moisturiser & wow it is brilliant! I apply morning & night & no longer am driven crazy with the itch. Can not recommend highly enough..

Hannah
Oh you're so welcome Hannah, I'm delighted you're a bit more comfortable. It's the olive oil we use in the Heavenly Hands that makes this quite such a rich cream and that's what you needed, a heavy oil to really moisturise the skin that's doing quite so much work at the moment! Thanks for your feedback and all the best xx - The Pure Nuff Stuff Team
I use this cream during the day, and find it to be the best, natural hand cream I have found to date. It is lovely and creamy and yet absorbs really well. Love it.! I also use the Intensive Body Cream on my hands and arms at night, which includes my chosen oils. Very pleased I found this website.

Norma Day
Recently my hands were in a terrible state. My fingers & cuticles were so very sore from picking & biting from anxiety & stress. I did a half & half mix of your unscented hand cream with your unscented intensive body cream blended with my own ginger essential oil. The relief began from the first use & within a couple of days my hands look like new. I will be using this blend from now on because I am just so happy with the results! :)

ANGIE CUDONE
That's great to hear, thanks so much for taking the time to let us know Angie! - The Pure Nuff Stuff Team
Love this hand cream. It absorbs quickly and works really well. I have been using this for years and it is the only hand cream I will use.

Roz
Thank you so much Roz, feedback like this makes our day, so glad you're happy! - The Pure Nuff Stuff Team