Cream Dream - Unscented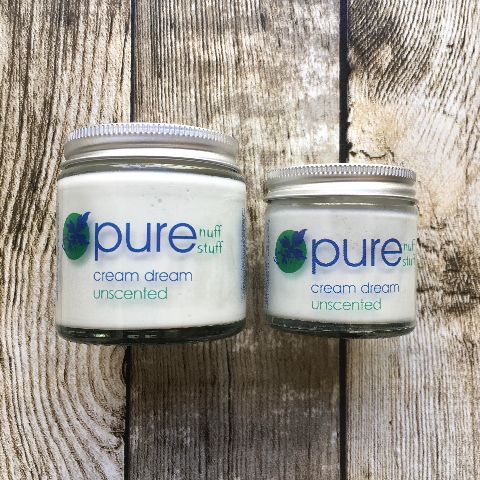 Perfume-free daily face cream, paraben free and palm oil free
Log-in to add items to your wishlist
Description

Our natural daily facial moisturiser, Cream Dream, brings you the benefits of skin-drenching shea butter and softening apricot kernel oil. They combine beautifully to make a rich, yet light cream that's quickly and easily absorbed. Shea is a stiff butter, rich in vitamins A, D, E and F and has anti-inflammatory properties. Apricot kernal oil brings anti-oxidant properties to the party, along with a silky, light feel. These two heavyweights combined with glycerine to make a cream that feels rich and sinks into your skin quickly.

Cream Dream is one of our best sellers, and with good reason; it's a reliable cream that does exactly what you want. It moisturises, nourishes and leaves your skin soft, supple and naturally glowing yet completely free of plasticisers (which coat the skin to give the illusion of softness) or other sensitising agents.

60ml & 120ml

150g & 240g ship weight.

Ingredients

Ingredients in descending order of proportion. Click an ingredient to find out more.
Product Testimonials Cream Dream - Unscented
Moisturizes well and I really appreciate the no-plastic packaging. It's unscented but there's a slight smell to it which I don't love, however it's not a deal-breaker. Tip for those with very sensitive skin: introduce the new cream gradually, putting days in between where you use your usual product. Overall, I'm really happy with the purchase. Thank you!

Agne
Thank you Agne, that's really good advice too, super sensible. - The Pure Nuff Stuff Team
I really like this cream, I can't use the essential oils as they irritate my skin. It would be nice if it cost a bit less than the scented one to reflect this but still a good cream.

Lisa
I have found over the years that i have been using this product, that my skin is very youthful, no wrinkles, and I get many compliments. Thank you Pure Nuff Stuff, its great, by the way I am 83, and no facial wrinkles.

chris Wells
Oh thank you for taking the time to write a review (and saying such nice things) that's really kind of you. - The Pure Nuff Stuff Team
I found this cream around 9 years ago and it's amazing. It's the only thing my skin will tolerate. I feel lucky to have found it.... please never stop making unscented cream dream.

Kate Swift
Thanks so much Kate, so pleased you've found your cream buddy (and no, no plans to mess with our hero product). - The Pure Nuff Stuff Team
I must have been using this cream for at least 10 years and it is the best moisteriser I have ever used. I have had allergy problems with so many products, but never this.

Catherine Petts
Thanks Catherine, that really does mean the world to us x - The Pure Nuff Stuff Team
My skin suddenly seems to have developed bad reactions to everything I used to use since hitting menopause and this has been the only cream that I have been able to bear on my face. So pleased to have chanced upon this site and tried it !

S Ray
So love this face cream. Goes a long way and is truly a dream to use!

Annette Atkins
My husband John has leukemia and has endless trouble with his skin, particularly on his face. Having tried many different creams , prescribed and otherwise, he was delighted when he started to use Cream dream unscented. It is the only cream to soothe and heal his face. Thank you PNS!!!!

Elizabeth Stredwick
That is so great, am delighted to hear this. Wishing you and your husband all the very best xx - The Pure Nuff Stuff Team
This cream is brilliant! My skin is pretty sensitive and breakout-prone and this is really soothing and moisturising without being greasy. Since I've started using it I feel like my skin tone is more even, and it's been great to find a moisturiser that is genuinely unscented, thank you!

Antonia
This product use to work wonders on my skin but recently it's been burning and leaving my skin red, blotchy and painful. I don't know whether they've altered the formula or if the pH of my skin has just changed but I'm really sad this isn't working for me at all anymore.

Elsa
Hi there Elsa, I'm really sorry you had this experience, but we've not changed anything at this end. And I can see that you've purchased the Rose & Vanilla version of this product, it's really not very common at all for people to react to that but had you let me know of your problem I'd happily have sent you an unscented version. In any event, I hope it won't stop you ordering from us again in the future and I wish you all the best. - The Pure Nuff Stuff Team
Love, love this stuff. It became an essential for me when I discovered that I was allergic to coconut oil & all nasties. I have very dry skin and we've been sailing and swimming lots over the last 9 months. After a few hours I realised that I hadn't had to reapply moisturiser and my face wasn't tight & painful ... thank you for making this ... I genuinely wouldn't put anything else on my face now.

Sarah McIlwaine
I got a jar of this while on a trip in Penzance. I'm a total convert. You can just feel how light but moisturizing it is. You know it's good how it absorbs right in with no greasy or film left. Better than well known organic brands I've used regularly before.

Chris