Body Bliss - Unscented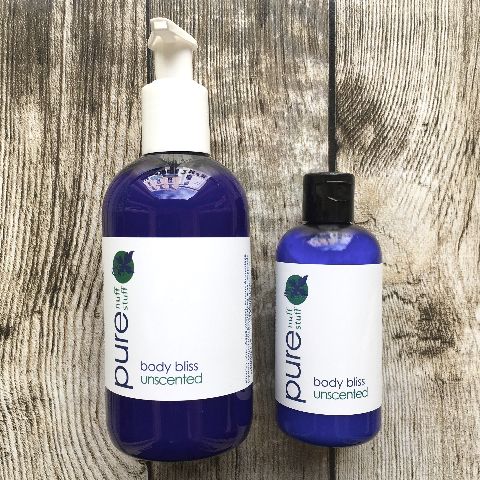 Multi-purpose Product!
Scent free body lotion.
Log-in to add items to your wishlist
Description

Fantastically smooth, light and easily absorbed, this daily body lotion will leave your skin silky smooth but not clogged and, frankly, you'll wonder why you've ever used anything else. It's a great everyday product and, because we load it with apricot kernel oil, a little goes a long way. Apricot oil is rich in Viatmins C and E so skin loves it, it's smoothing, helps improve skin tone and leaves you feeling silky. This is a real desert-island product, it's so versatile, it can be used at a pinch as a cleansing milk or even as a hair conditioner - making it a great travelling companion.

If you're travelling, take this unscented version with you and use it as a facial cleanser, even a hair conditioner, make-up remover and all-in-one body moisturiser.

Sample size, 100ml & 250ml

(Shipping weight 120g & 280g)

Ingredients

Ingredients in descending order of proportion. Click an ingredient to find out more.
Product Testimonials Body Bliss - Unscented
I've been using this as a wash off cleanser for just over a month and my 64 year old sensitive skin looks better than it has for some time. It also feels comfortable after patting my face dry.


Sally Penfold
I've been buying this for some time now and will continue to buy it. I find it's great for daytime as it soon sinks in and you can do other things without greasy hands. As I have very dry skin, I always use a thicker moisturising cream at night.


Norma Day
Thank you so much for your feedback, we really appreciate it! - The Pure Nuff Stuff Team
This got me through chemo and radiotherapy. It's the most natural and gentle skin moisturizer I've come across which is important when having treatments for cancer. Helen


Helen Kembery
I use this as an eye make up remover. It is soft and gentle and moisturizes my eye area at the same time.

Carol Irwin