Squeaky Clean Kids - Lavender & Chamomile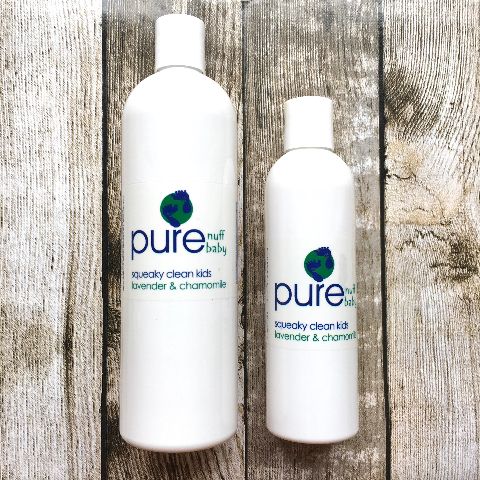 A gentle shower and bath gel with added calendula oil.
Log-in to add items to your wishlist
Description

A soothing shower and bath gel that will fill the bath with gentle lavender and chamomile bubbles and soothe delicate skin with calendula oil. No need to worry about harsh sulphates or strong perfumes with this product, it's got the same scent as our other Pure Nuff Baby products, but the addition of calendula oil and vegetable glycerine to this product is a game changer. The way it leaves skin feeling after a bath is just lovely, you might even need to mositurise less - but it's specifically useful if your little one has a skin condition that needs extra moisture or gets odd dry spots. It's especially useful as it can also be used as a shampoo, making it the only bottle you'll need for bathing your babies, however big or small.

Both lavender and chamomile are reknowned for thier calming and soothing properties and with good cause - but the sleep-inducing side effects are only part of the bargain here, they're both genuinely hard working oils. While being famously gentle, lavender is mildly antibacterial and chamomile is great for those that suffer with eczema or dermatitis and it's anti-inflammatory, so literally soothing in every way.

Available in 250ml with the pump top, and 500mls with a flip top lid.

290g & 550g Shipping weight.

Ingredients

Ingredients in descending order of proportion. Click an ingredient to find out more.
Product Testimonials Squeaky Clean Kids - Lavender & Chamomile
We love this new Squeaky Clean Kids! We'd been using the lavender version for him since he was 3 months old. It's lovely that this one has been formulated especially with little ones in mind. It's super mild, really bubbly (we use it like a bubble bath) and he never shows as adversion to it getting in his eyes a bit either, so it mustn't sting. It must also taste quite nice as he is usually trying to eat the bubbles! Thanks Pure nuff Stuff, we love it!

Lily PicklesFloyd
You're so welcome!! - The Pure Nuff Stuff Team
As before love love love this stuff its all I've ever used on my premature baby and we've had none of the expected skin issues

Natasha Tozer-Martin
Thank you so much for taking the time to write this Natasha, that's so kind of you! - The Pure Nuff Stuff Team