Rosacea Cream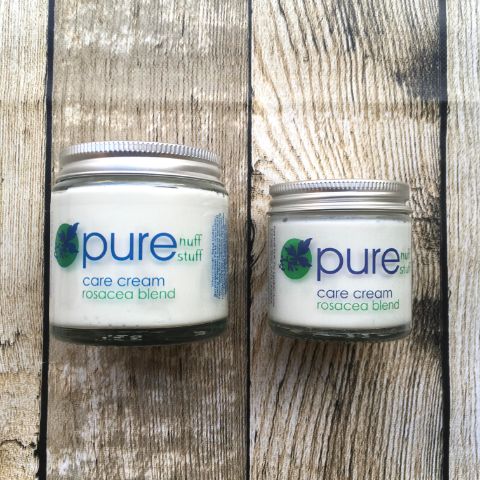 To tackle the effects of rosacea.
Log-in to add items to your wishlist
Description

Using our reliable Cream Dream as a base for this everyday facial moisturiser, we've added essential oils of carrot seed, geranium, yarrow and rose to help combat the effects of rosacea. We know everyone wants to reach for tea tree to combat this conditon, but we genuinely feel it's too harsh, rosacea needs very gentle treatment. Carrot is a wonderfully earthy oil and has antimicrobial and anti inflamatory properties. Geranium is there to combat redness, it brings antioxidant and astrigent properties to the party too. Finally, yarrow is there for more anti inflamatory purposes, plus it's purported to help even out skin tone - the three oils combined give effective, clean, moisturising comfort to really irritated skin.

60ml & 120ml

(Shipping wieghts: 150g & 240g)

Ingredients

Ingredients in descending order of proportion. Click an ingredient to find out more.
Product Testimonials Rosacea Cream
I ordered this cream after reading the reviews and its a amazing cream, my skin in 2 days is less red and its not itchy where the spots are, although the smell is not to my taste i will defo be buying more as it works, i have used perscriptipn drugs on my face and they never worked just made it worse.
Great cream

Lisa O'Neill
lovely cream I am 40 and have rosacea and really dry skin with a sugar and dairy free diet and this cream I have my rosacea totally understand control. Thank you!

amy cooke
I don't think my rosacea is of the type that can be helped by creams (it's due to capillaries being close to skin surface) but my sensitive skin gets along well with this cream. I actually chose it because I prefer its (dry? herbal?) smell to that of Cream Dream. Lovely!

Agne
Thanks so much Agne, interesting to hear you prefer the smell of this to other blends, I happen like this one too. - The Pure Nuff Stuff Team
This is the best cream I've ever found for my rosacea. Made a noticeable difference in a few days and even coped when my skin flared up during pregnancy.

Caitlin O'Brien
That's great, we're really happy it's working for you Caitlin! - The Pure Nuff Stuff Team
Having tried other products for rosacea,, I am delighted to say this cream has virtually cleared my rosacea blisters in no time ,& my skin feels really soft , would definitely recommend to give it a try .

Lynn Stanley
I have rosacea and have been using this cream for a few months now.
It smells amazing and feels lovely on the skin, it's also great underneath make-up. Now I need to try the face wash in this range too!

Natalie
Calming, soothing, great base for make up to do it's camouflage work.

Ann Sheppard
At the beginning, I had an impression that my rosacea is actually begun to spread but interestingly, the itching stopped. Now, after a week of using the cream, I start to see the difference. Just give this product some time to see the results

Jo