Psoriasis Cream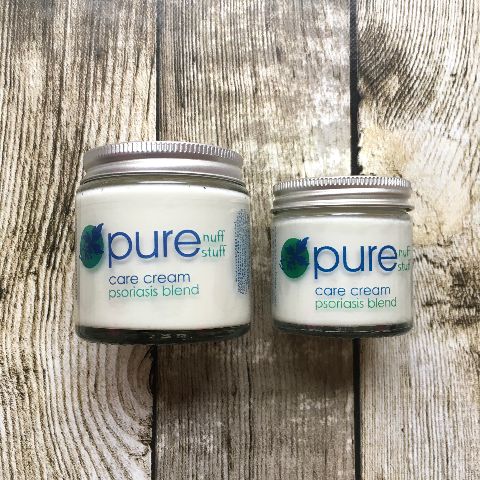 To help relieve itching and lift plaquing without breaking the skin underneath.
Log-in to add items to your wishlist
Description

Like eczema, this condition is incredibly complex and very distressing. Pretty much everything aggravates it, and flare-ups are painful and can affect confidence. It's fundamentally different to eczema, so needs its own blend to combat the symptoms of redness and soreness.

We've used a hefty combination of rich and deeply moisturising oils as a base to help seal in moisture without clogging skin or sitting uselessly on the surface. Then we combined bergamot, lavender and sandalwood to soothe, heal and take away the fire associated with the condition.

We worked hard with our group of testers refining this blend to ensure it works for most people, and we've had some great feedback on the results.

Apply to affected areas as often as you feel necessary. It's safe to use on your face, too (also safe for use on children over the age of three months).

60ml & 120ml

(Shipping weight 150g & 230g)

Ingredients

Ingredients in descending order of proportion. Click an ingredient to find out more.
Product Testimonials Psoriasis Cream
This cream is really good at reducing the appearance of dryness and redness caused by psoriasis. The only downside is that using it on my face makes applying my foundation more difficult. It's quite rich, so foundation won't sit on my nose as easily as usual. (Any advice would be appreciated).

Helen Deakin
I use this for my psoriasis on my feet and elbows and it really does the trick: I had really painful patches on my feet and they are so much better now. Bonus: the cream smells really lovely.

Kerstin
This cream is wonderful. It clears my flare ups in just a few days and takes away the itching in the process. You don't need much so the price is really fair. A little goes a long way.

Tracy
Thanks so much, we're so happy it works for you! - The Pure Nuff Stuff Team
I've just tried this as a sample size and love it. I've used if my face as well and it smells lovely . Will be ordering a full size amount

Kate Wyatt
I get really bad flare ups which would take months to heal. A friend got me the sample of this which I applied twice a day (after morning shower and before bed) and within a week the skin had healed. No idea how it works so well but it does. I honestly couldn't recommend it more - amazing stuff!

Will
Oh Will that's brilliant, we're so happy for you! Thanks for taking the time to let us know, it's totally made our day here. - The Pure Nuff Stuff Team