Squeaky Clean Bath & Shower Gel Larger Sizes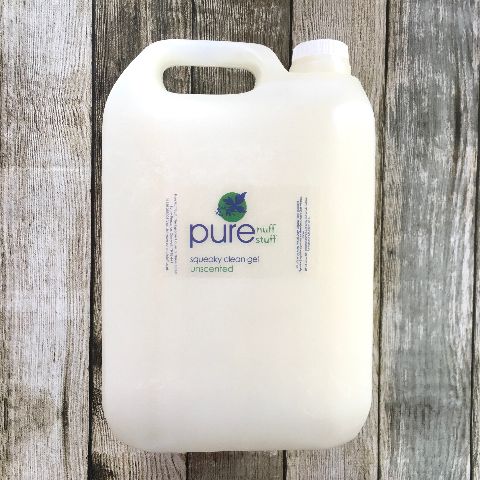 Refill sizes for our bath and shower gel.
This product has a purchase limit applied, you cannot buy more than 1 of any variation of this product.
* Products marked have a purchase limit applied. The number in parentheses represents the maximum that may be purchased in a single transaction. Your cart will only accept up to the specified quantity for each.
Log-in to add items to your wishlist
Customise This Product
Description

If you are like us and can't get enough of our shower gel and are also sharing it with the rest of your household you are probably getting through it at a pretty strong pace! Here you can buy much bigger sizes of squeaky clean gel to top up at home. Also by topping up your own bottles you are also keeping your packaging at a minimum- meaning the planet will love you as much as your pocket!

As these bottles are much heavier they are sent via courier,this service is included in the price.

These products are made to order so they are at the freshest they can be for you. Orders need to be placed by Monday evening as they are made every Tuesday. This product can only be shipped to the United Kingdom.

Ingredients

Ingredients in descending order of proportion. Click an ingredient to find out more.
Product Testimonials Squeaky Clean Bath & Shower Gel Larger Sizes
A regular purchase of mine this bath/shower gel and good size! Shame I have never received a free gift :( as I understand loyal customers get them).

Abdul Aziz
Hi there Abdul, so glad you're loving the Squeaky Gel, and yes, that five litre size will last a while won't it? We didn't mean to offend you by not sending you a gift, you've just not ordered enough times for the site to tell us to do it yet :) - The Pure Nuff Stuff Team
We have been using the lavender shower gel for a few years now - I buy one big one every year. It's so kind to the skin and smells lovely. My husband shaves with it every morning without a problem.

Shelley Marshall
Thanks for taking the time to give us a review Shelley x - The Pure Nuff Stuff Team
Hello - we like your product but it is a shame that the prices have increased so much. It used to be £50 for 5 litres so £56 for 4 litres is quite a lot. It would be good to have discount for loyal customers too if that was possible.

(Pure Nuff Stuff response) Hi Ruth, thanks for this, glad you like the Squeaky Clean Gel, but just to clarify, the new price includes the delivery cost now so still represents good value. And we still give free gifts with every fifth order so hope that does look after our loyal customers but please keep the ideas coming, we do appreciate the feedback - thanks.

Ruth
I'm a big fan of this shower gel and so I'm very happy to be able to buy it in a larger size. Great value and absolutely no problem with international shipping. Great communication with seller too. Highly recommended!

Claudia
Have been using PureNuffStuff Squeaky Clean Gel for over a decade. And will continue to do so for decades to come! My 12 year old daughter's skin knows of nothing else! It is luxuriously bubbly enough to satisfy her and being devoid of all the nasties satisfies me. Large size essential for us :-)

Philippa Black
That's so nice to hear Philippa, thank you for taking the time to write a review for us, we really appreciate it. - The Pure Nuff Stuff Team