Ku Tis Natural deodorant, plastic free and handmade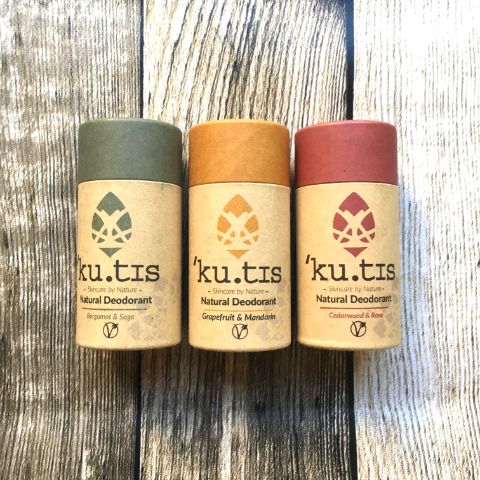 Log-in to add items to your wishlist
Description

You'll notice we don't stock many other brands here are Pure Nuff, we know we can make most things and at the risk of sounding a touch snobbish, we only buy in things that are really, really well made. This brand of deos absolutely are that.

Ku.tis are a brand we've really come to admire. They really pay attention to sourcing of ingredients, they're as fanatical as we are about that, nothing is tested on animals (obviously), no palm, they're handmade, the packaging is bang on (not a shred of plastic, the carboard push up tubes are sturdy enough but guilt free) and they work. They're not antiperspirants so they won't stop you sweating - this is not a bad thing btw - but they are effective deodorants. I have tried a good few of this sort of sticks and these are by far the nicest I've used.

The arrowroot and the bicarb are nicely balanced out by the generous use of oils and butters they're suspended in so they don't dry out your skin and they just smell gorgeous, they have got the balance of scents down really well, there's not a dud in the bunch. The consistency is spot on, it's as solid as you need it to be but it melts when you need to apply it, that's a really difficult balance to get right and we like how they've done it. I mentioned the smells, they're really pleasant, but they've also chosen all the right anti-microbial oils that help the arrowroot and bicarb do the job you need them to. They're a nice thing, done well and that's very pleasing indeed.
Product Testimonials Ku Tis Natural deodorant, plastic free and handmade
Finally! It's 100% natural and 100% effective….going to stick to this from now on. Fantastic product.

Vi
Oh brilliant Vi, so glad you agree with us, this range just rocks doesn't it? Thanks for your review, we really appreciate it. - The Pure Nuff Stuff Team
Brilliant deodorant - lovely natural scent, great packaging and absolutely works!

Jodie
So pleased you like it Jodie, thanks very much for the review. - The Pure Nuff Stuff Team
This is the best deodorant I have ever found, and I have searched and searched. This works, is easy to apply, comfortable to wear and no plastic or harmful ingredients.

Victoria Wright
I can't tell you how happy I am to hear this, I've tried so many others too and just love this range for all the same reasons you do. Thank you! - The Pure Nuff Stuff Team
Tested during this very hot weather, and at last a natural deodorant that 100% works. A wonderful product.

Sylvia Westbrook
Oh I'm so glad you like it Sylvia and thanks for taking the time to write us a review, we really appreciate it. - The Pure Nuff Stuff Team
Bought this for my other half, and he likes it - progress! Even wants the same again. That's as much comment I could get out of him!

Steff Moulton
Thanks Steff, it's so great to hear this, they're a lovely brand and I like so much about them - the effectiveness of them is the first thing on the list! - The Pure Nuff Stuff Team