Hibi Incence - 10 minutes aroma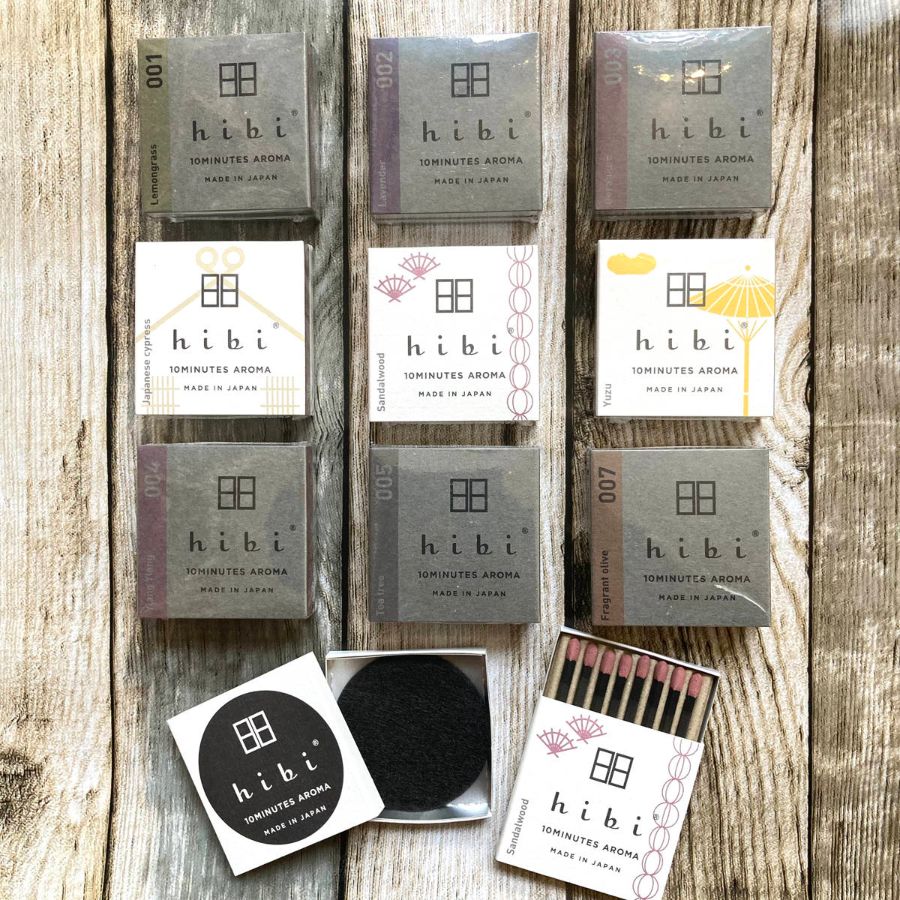 Log-in to add items to your wishlist
Description

How does it work? Simply light the match by striking it, lay it on Hibi's exclusive mat and enjoy the scent for around 10 minutes. The mat is heat-resistant so you can safely leave it on your desk. Each box contains 8 sticks.

Everything about the range drew us in, first of all the scents themselves of course, Japan has a very long tradition of incence and it's fundamentally different to say the Indian ones we all might be a bit more familiar with. It's lighter, less woody and doesn't linger in the same way but it's heady and rich all the same. Indian incense is known for its bold and aromatic scents. The fragrance profiles can range from sweet and floral to spicy and woody, often creating a strong and lingering aroma. Japanese incense emphasizes subtlety, with scents that are often more refined and delicate. The fragrances are designed to evoke a sense of tranquility and are often inspired by nature, offering a meditative experience.

Then the idea of striking a match on the side of the box appealed too, the incense stick itself has a match head, so clever. And it makes the lighting of it somehow into a ritual, something you're doing for yourself. Then inclulsion of the mat in the pack to stop you from burning precious things, that sort of thought in a product is so rare and we love that approach. We love everything about this range and we think you will too.

The set makes a gorgeous little present, the fact that the stick lasts for about 10 minutes makes it an ideal present for anyone attempting to master mindfulness but it's also light and takes up so little space. It's indulgent, it's clever and it's absolutely worth it.

Available in the following scents:

Yuzu - is a type of citrus fruit that originates from East Asia, particularly Japan, and is known for its distinct aroma. When used in incense, yuzu creates a unique fragrance that is both invigorating and calming. The scent is often described as a combination of tangy, zesty citrus notes and a slightly sweet, floral aroma. It is often used in meditation practices and as a way to refresh and purify the atmosphere.

Sandalwood - Also known as "Byakudan" incense, has a distinct and soothing fragrance that is highly valued in Japanese culture. The scent of Japanese sandalwood incense is characterized by its woody, creamy, and slightly sweet aroma. Sandalwood has a long history of use in Japanese incense, and it holds cultural significance as a symbol of purity and spiritual enlightenment. It is often associated with traditional ceremonies and rituals.

Japanese Cypress - Also known as "Hinoki" incense, is derived from the wood of the Hinoki cypress tree (Chamaecyparis obtusa), a native tree of Japan. The scent of Japanese cypress incense is distinctive and evocative, capturing the natural essence of the forest. Japanese cypress has cultural significance in Japan and is often associated with purity and ritual cleansing.

Lemongrass - Citrussy and zesty with herbal undertones, lemongrass is often associated with its uplifting and energizing qualities. The scent can help invigorate the senses, promote mental clarity, and create a sense of positivity.

Lavender - Calming and aromatic, capturing the essence of lavender in a unique and refined way.

Geranium - While geranium is not as commonly used in Japanese incense as some other scents, this fragrance is unique and delicate blend of floral and herbal notes. Geranium is often associated with promoting a sense of calm and relaxation, while also providing an uplifting and invigorating effect.

Olive - A green and herbaceous aroma, capturing the natural essence of olive leaves and branches, this verson has a fresh and slightly woody quality.

Ylang ylang - Ylang ylang is a tropical flower native to Southeast Asia, and its scent is known for its rich, floral, and sensual qualities. It's known for its relaxing and uplifting effects and this incense creates a calming atmosphere while also promoting a sense of well-being and positivity.

Tea Tree - Tea Tree is known for its fresh, clean, and invigorating scent, which helps promote a sense of cleanliness and clarity.