Shampoo Bar - Lemongrass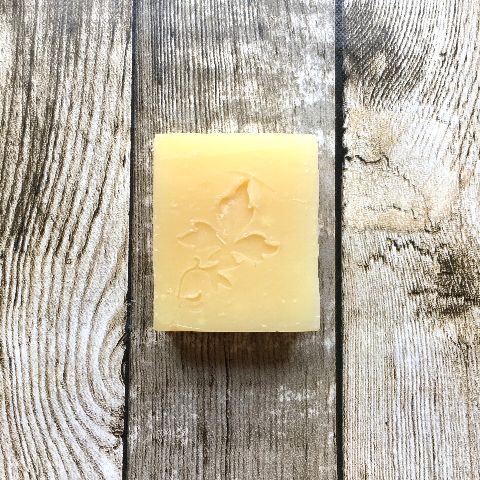 Multi-purpose Product!
Solid shampoo bar
Log-in to add items to your wishlist
Description

These bars are now in our new bigger square version - so not the round pucks you may have been used to. Shampoo bars are a great and convenient way to wash your hair and body. Okay, we admit that when we first came across thie idea we were a bit sceptical. Could a soap bar really work on hair as well? But, once we tried it, we were convinced. The way we approached the need to wash both hair and skin was to add extra castor oil and glycerine than our normal soaps – and the result is a bar that lathers richly and rinses to a squeak without stripping your scalp's natural oils. It's very popular with men as it's so unfussy and because it's also brilliant for shaving. It's less bulky for travelling and just plain handy for showers and of course, it's a way to avoid plastic in your daily routine and we're all looking for ways to do that aren't we?

How to use: Run the shampoo bar over your head in one direction (front to back), so as to avoid causing unnecessary knots. Once you have a good amount of shampoo on top of your head, massage it into your scalp with your fingers. Rinse with water until ALL the shampoo is out and you're good to go. Be brave, try it, if not for the plastic free element of the product, just for the ease of use, we reckon you'll become a staunch solid shampoo fan, too.

Hints and ideas to help you get used to a brand new way to wash your hair:

There is a huge difference between how traditional shampoos work and how solid shampoo bars work - and your hair notices it to start with, this is often referred to as "the purge". When you first switch, you may notice that your hair or scalp becomes dry or a bit oily or both, your hair might feel waxy or heavy or just strange, not itself. Don't panic, this is quite normal, your hair and scalp need to adjust to the new way of being cleaned and in a very short time, normally a week, your sebum production balances. It's at this point you'll notice your hair is suddenly softer, more manageable and stays cleaner for longer. Welcome to your New Normal. If you've experienced dandruff in the past, this often clears altogether.

Things that might help you get through this transition:

Use a very mild apple cider vinegar rinse before your conditioner if you use one, this will help smooth down the hair shaft, protect it and give it some shine (I use half a cup of ACV to roughly a litre of water plus a drop of my favourite essential oil, which is a weaker solution than you might see elsewhere online. I use two jugs for pouring over my head, I put the mixture in one jug, rinse my hair and catch the run off and rinse again - using two jugs and reusing the water means you can use a much weaker ACV rinse and you won't smell like a chip shop when you're done, promise!).

Rinse more thoroughly than you've been used to for at least a fortnight - if you're super brave, do one last rinse with cool water, it helps, but this isn't always easy in the depths of winter.

Don't wash every day if you can, give your hair a couple of days in between washes to allow it time to readjust.

Brushing your hair morning and night from root to tip will help to redistribute your hair's own natural oil.

If you're struggling with excess oil, try sprinkling a very small amount of cornstarch on your scalp and thoroughly brushing your hair to help you avoid overwashing.

If you're used to using a lot of products for styling to control frizz, consider using a little bit of conditioner as a leave in product, that's really useful for weighing hair down and stopping fly aways.

110g minimum shipping weight.

Ingredients

Ingredients in descending order of proportion. Click an ingredient to find out more.
Product Testimonials Shampoo Bar - Lemongrass
My favourite shower & hair washing soap. My hair is in the best condition ever, and the delicate lemon scent is wonderful.

Jill
Pure Nuff Stuff hair and body bar is the only shampoo I use now, I had tried so many other SLS-free shampoo bars (by other companies) which were terrible, before I found this beauty and fell in love! Clean, simple, lovely to use.

Maddy
I love this shampoo, took a couple of washes to get used to it, but my hair feels really clean after washing. Had to use ' normal' shampoo recently, my hair felt horrible after! Laden with chemicals.......

Sarah
Fabulous! The only way I will wash my hair now and forever. My hair is in the best condition. No oils are stripped from my scalp and hair. No tangles when washing, just soap your hand and stroke it on your hair, over and over until all hair covered. Then draw your fingers through your hair and scalp and rinse. That's it! Lovely essential oil scent, tangle free, glossy hair. All for £4. And a bar lasts me for months :) Oh the most important fact: No Nasties, you are not going to pollute your body with poisonous chemicals. Nothing compares. Thank you Pure Nuff Stuff :)

Lynne Garwood
Absolutely love this, I use it for hair, body and even my face. Will be great for my holiday as I'll only have to take one bar saving space in my suitcase.

Ester Collins
Thanks so much for the review, am so glad you like it. - The Pure Nuff Stuff Team
I tried all your hair & body soaps and this one is my favorite so far. thanks

Keiko
Great cleaning for hair and body.... rinses out well and has a lovely fragrance. No plastic to packaging to dispose of. Would highly recommend.

Sara
Thanks for letting us know Sara, they've just exploded in popularity recently, am so happy to see they're finally really taking off - and most importantly, that you like them! - The Pure Nuff Stuff Team
Love this,my husband is addicted to the point where he is over using it..... Need more
Works well on my fine hair, feels thicker, less drier, only using a small amount for results.

Linda Harris-Jones
Love this, is it possible to be "too clean"? Thanks for the feedback Linda, seems that adding a bit more essential oil to the soaps to make them a bit stronger smelling has been a good idea huh? - The Pure Nuff Stuff Team
I received my PNS hair and body bar yesterday and used it this morning. What a fantastic product. It smells good and feels good. Easy to use. No chemical nasties in this bar either. What more could you want? I just love it!

Tara Reeves
Really love this as a body wash, lathers up really we'll on wash poof thing
Doesn't suit washing my long colour treated hair which seems to suck it up and not wash out very well. However I can recommend the hair cleanser and conditioner which are much more suited to my coloured hair & leaves it very soft & shiny.
My husband is totally converted to this soap for his body and not much hair wash, he prefers it to getting through bottles & bottles of lynx!
Lemongrass is my favourite scent and is unisex.

Julia Sanders