Heavenly Feet - Peppermint, Lavender & Teatree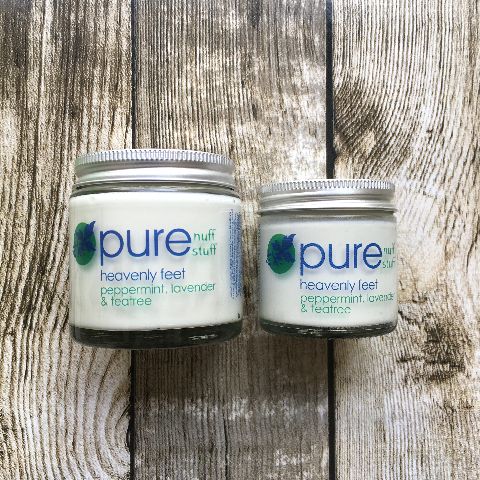 A rich scented foot cream with coconut, apricot, avocado and cocoa butter.
Log-in to add items to your wishlist
Description

This luxurious natural foot cream is packed with essential oils to freshen and deeply moisturise. We've long felt that neglected feet deserve a better deal, think of how much time we spend on them and just how flexible yet tough that skin needs to be, they're amazing things really. So let's treat them better.

The toughness and dryness that result from all the hard work our poor feet do needs special treatment to combat these problems and keep them sandal-perfect for Summer. We have blended apricot, coconut and avocado oils with cocoa butter to make a base that works as hard as your feet, combining to give your tootsies a total treat. We also loaded this product with pure peppermint, lavender and teatree essential oils which help stimulate the circulation system, have antiseptic properties and smells just yummy – so that your feet will feel, well, heavenly.

60ml & 120ml

(Shipping weight 150g, 240g)

Ingredients

Ingredients in descending order of proportion. Click an ingredient to find out more.
Product Testimonials Heavenly Feet - Peppermint, Lavender & Teatree
Great foot cream, I use this every day. It's not greasy it smells fresh and light and it keeps my feet lovely and soft.

Dawn
Wonderful stuff that looks after my feet beautifully. As I have psoriasis on my feet, I use it alongside the psoriasis cream and the co forum of my skin has significantly improved

Kate Wyatt
That's lovely to hear, thanks so much for taking the time to let us know. - The Pure Nuff Stuff Team