Eczema Cream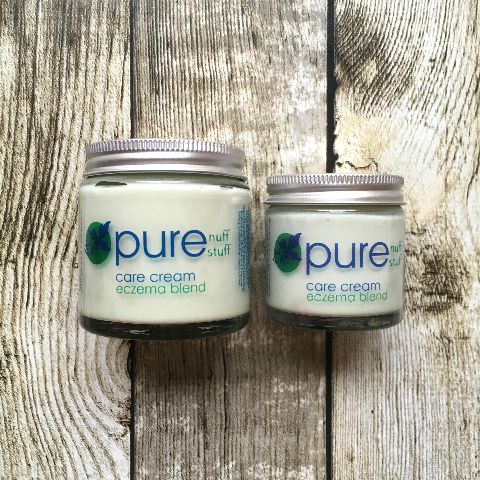 Soothes and helps heal damaged skin.
Log-in to add items to your wishlist
Description

Eczema is a very complex condition, and if you suffer with it then you know that pretty much everything affects it: stress, diet, climate, dust... the list is almost endless. In truth we could write a thousand words on just the symptoms. But we try to be practical here, and what we were told by our fabulous group of testers was that itching was the thing that drove them mad. So first we had to create the right blend of moisturising oils – and we've used a hefty combination to help your skin retain as much moisture as possible, which is the basis of healing. Then we added our delicate blend of essential oils of chamomile german, yarrow, marigold tagetes and evening primrose oil, to soothe and take some of the fire out of the itch and help further promote healing.

This cream is fine to use on your face, and perfectly safe to use on children from three months old. It isn't intended to replace anything prescribed by your doctor, but it can be used alongside it.

Some interesting research on the effects of emollient creams on eczema sufferers is linked here.

60ml & 120ml

(Shipping weight 150g & 230g)

Ingredients

Ingredients in descending order of proportion. Click an ingredient to find out more.
Product Testimonials Eczema Cream
I was sceptical, but it works. Most eczema products are too oily - a layer of oil left on the skin causes additional irritation. This sinks in, with no residue. It is the only cream I have found that works.

Jean Boase-Beier
The best thing I've found for eczema and dry, flaky skin.

Richard Smith
looks promising

T D Crocker
I have severe dermatitis on my hands as well as eczema and this cream is gorgeous, just the right amount of richness. My hands feel better already. So pleased to find products with so few ingredients and no nasties. Thank you!

Katherine Kean
This sort of review makes us tear up a bit, it's what we're about, making people comfortable - so happy you are and thanks for letting us know Katherine x - The Pure Nuff Stuff Team
Love, love, love. Eczema is clearing and the product is amazing. I ordered a sample to try and ended up getting a full size.... Now I have a sample pot for my handbag and a full size on my dresser.

Karis
Saw this cream on hoilday in Penzance at the Egyptian House........lovely woman in shop said give it a try for my daughter's aggressive Eczema, tried a test patch skin loves it, so glad there is something other than steriods, its smells nice its natural and a good price

Kathryn Okofoh
After trying different creams from the pharmacy to treat a small patch of eczema for almost a year with no real results I spotted that Pure Nuff Stuff do an eczema cream while shopping for my usual face cream. I can report I'm on day three of using the cream and the eczema is almost cleared! Fantastic cream and very happy with the results. Thank you!

Tina
Oh that's just great news Tina, thanks so much for letting us know! - The Pure Nuff Stuff Team
Was very grateful that sample pots were available for this cream, as it can be so expensive trying out different products to find one that suits grumpy skin. However, within days I have ordered a big pot of this lovely cream. Amazingly calming on flaring eczema, really seems to be helping and I'm so grateful that you guys are making something for us eczema sufferers that is chemical free and kind to our skin. Hopefully it will continue to work as well. I am going to try the eczema version of the squeaky clean gel next. Many thanks.

Claire Botsford
An amazing cream that cleared up the eczema on the palm of my hands in a couple of weeks. I found it last summer while on holiday after suffering from very sore hands since the beginning of the year. I try to use mostly natural products but got quite desperate so used the cream the doctor prescribed, then tried other creams but nothing worked. This did! As soon as I start running out the blisters reappear so I cannot live without it. It also soaks really well so is great to use during the day. Thank you so much for this cream!

Elizabeth Robaldo-Aznar
My son suggested that I use the eczema cream and it does work so I'm ordering some more!

Linda J
That's wonderful to hear Linda, so glad you're happy. - The Pure Nuff Stuff Team
I bought this for my husband's very dry flaky scalp but have had better success with areas of eczema on my neck and hands which cuts down on the use of steroid creams

JT
Brought this for my daughter while on hoilday in Penzance, her face was scaly and dry now its soft and silky.....her hands also are improving. Will be on my gift list from now on :)

Kathryn Okofoh
Hi there, I remember you! So pleased to hear your little one's a bit more comfortable and thanks so much for leaving a review. - The Pure Nuff Stuff Team
Absolutely amazing cream, changed my eyelids they are so much calmer and less dry... could not recommend enough.ive now both the shampoo and conditioner. X

Sophie Williams
Bought this as a present for a friend with very sensitive eczema prone skin. He said its the best cream he's ever used on his skin. Just bought him another tub, thanks.

Helen
Bought this when on holiday near Penzance. Helps soothe my eczema and at all greasy. Just adding to my next order

Amanda
That's so nice to hear, so glad you're so much more comfortable Amanda! - The Pure Nuff Stuff Team
I am going through topical steroid withdrawal/ oral steroid withdrawal, my arms have been horrific lately and I could barely move them with the redness and dryness. I started applying this and a week later my arms are fully clear and I'm not in pain anymore. Definitely recommend and going to order again! My arms did shed massively after the first application but I think that was all the bad stuff trying to go! Been so good sinceThank you

Bethany Parker
Oh Bethany this is amazing, we couldn't be happier for you xx - The Pure Nuff Stuff Team
Bought this when on holiday. Really good product that has helped a small patch of eczema on my leg. Just about to buy my 3rd tub and I think it may be my last as the patch has got smaller and more healed- it's that effective!

Simon Hutchinson
Highly recommended, my skin can't thank you enough. Eczema is clearing and the products are amazing. Ordered full size products now and wait for them to arrive! Thank you pure nuff stuff :)

Laura - Facebook
Excellent, best cream ever. Protects against any flaring up of eczema. Thx!

Annemiek van Moorst