Shea Souffle - Scented and Unscented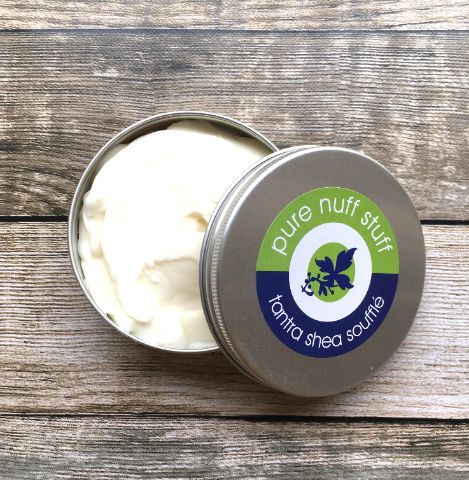 Rich, natural body butter containing shea butter, almond oil and essential oils.
Log-in to add items to your wishlist
Description

If you need something even richer than our Intensive Body Cream, this mix of pure shea butter and sweet almond oil, rich in both proteins and minerals is for you. We've lovingly whipped the oils together as they set, so the Soufflé starts quite solid to the touch but almost instantly melts in your hand to enable you to apply the rich oils all over your body. The result is a wonderfully smoothing and healing treat, superb to smother yourself in after a bath or shower. And there's another bonus: it lasts for ages!

Available in three different signature scents - Tantra (rose, patchouli & ylang ylang), Heavenly (sandalwood, rose & lemongrass) and Calming (cedarwood, frankincense, neroli & vanilla or for super sensitive souls, Unscented.

150g

(Shipping weight 186g)

Ingredients

Ingredients in descending order of proportion. Click an ingredient to find out more.
Product Testimonials Shea Souffle - Scented and Unscented
Ordered this product from The Netherlands... love love love it! This cream is so rich, it's a real treat to your (dry) skin. Definitely worth it!

Anne
I can't believe what this cream has done for my skin. I've been using it as a night cream on my face and within less than a week, my skin has become the softest, smoothest and clearest it's ever been and I honestly look 10 years younger! I'm overjoyed to see that the ingredients are 100% pure and natural. This is now my permanent moisturiser for life!

Kate
This is gorgeous! My skin has never felt so soft.

Lauren
I bought this for my son and husband who both have very dry skin. After a few days of using this cream their skin has become really soft and supple!

Olive Kayongo