Rhassoul Mud Treatment - Refill Pack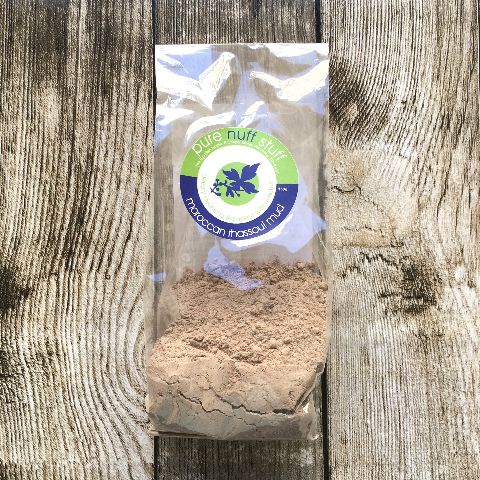 Multi-purpose Product!
Versatile mud packed with minerals.
Description

Here in the shop we call this WonderMud. Rhassoul (sometimes called Ghassoul) has been used for thousands of years for softening and soothing, and is the mud that's used in those very expensive spa body wraps. It's incredibly versatile and leaves skin looking and feeling fantastic. You can use it as a face pack, as a marvellous bath soak and, most spectacularly, to wash hair with (be warned, don't use this product on your hair unless you're prepared for volume and bounce of epic proportions).

Rhassoul behaves in a unique way when it comes into contact with water. It forms a gel-like consistency, and it cleans skin gently and without affecting the natural balance of oils at the surface. This makes it perfect for those with very sensitive skins but, most especially, those that suffer with psoriasis. It's not just a beauty treatment, it has soothing properties that make it perfect to calm itching and help to very gently soften the plaquing that occurs in a bad attack of psoriasis. Basically, we can't rave enough about it.

Full instructions for use are attached to the back of the bag but, to give you an idea, one pot should make roughly ten face packs, at least five hair washes or three really good bath soaks. To make it really special, add a drop of your favourite essential oil - rose, for example, would be great in a face mask.

Use this glassine pack to refill your glass bottle.


150g

Ingredients

Ingredients in descending order of proportion. Click an ingredient to find out more.
Product Testimonials Rhassoul Mud Treatment - Refill Pack
I have naturally curly but very fine and frizzy hair, and the older I get the drier and more horrible my hair feels. Applying water and shampoo (even nice PNS shampoo) turns it into a massive ratty dreadlock on top of my head, and I need to spend 20 minutes and half a bottle of conditioner just to get my fingers through it, which pulls all the curl out. And then...I tried this wonder mud after a beach day so my hair was in a right state. What gorgeous stuff! There were no dreadlocks, no tangles, no conditioner and it dried all soft and bouncy and curly again, plus it didn't need washing for two days afterwards, and when I did wash with shampoo again it was STILL in lovely condition. Love it, love it, love it.

Arwen
My has suffered with eczema for most od his life and has been using your eczema blend shampoo happily for at least 10 years. But for the last couple of years he has a very itchy scalp which he rubs in his sleep resulting in weeping sore patches. Last year he ended up on antibiotics which did help but the problem has re- occurred. It has taken MUCH persuasion to get him to try rhassoul mud on his scalp, being a very sceptical bloke. Just 2 treatments, as a paste left on the head for 20 mins then showered off, has had a very calming effect, so hopefully I'll be able to get him to continue for a week or two and I'll let you know the result. Thanks, as ever, for the sound advice.
Sarah, Northumberland

Sarah Buchan
Thanks Sarah, so happy he's a bit more comfortable now! It's amazing what difference it can make to some people when they take a step back from all types of detergents, so glad it'e helped. - The Pure Nuff Stuff Team
I have discoid lupus which has left me prone to various skin complaints including severe inflammation of the scalp with distressing hair loss. I also have baby fine hair which means I end up with bed hair in the morning so have to restyle my hair every day. If I just wet my hair to restyle it becomes dull and lank and I am always worried about the build up of styling products. I wash my hair with a neem shampoo that I have found very effective and the next two to three days I place a heaped teaspoon of rhassoul in a plastic cup and mix with hot water. I pour this over wet hair and gently massage into my scalp for a minute, comb through and then rinse and apply suncoat styling spray and blow dry. You end up with beautiful shiny healthy hair! Yes it is messy but the mud does not stain and yes you feel that you are simply washing your hair with water but as a daily wash it really does work and gives body to fine hair.

judith twiss