Problem Skin Moisturiser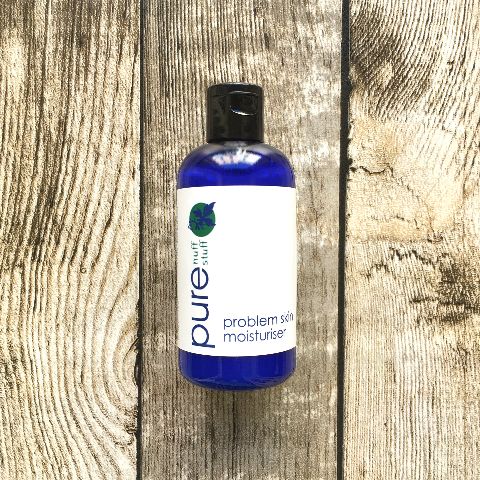 Skin healing lotion.
Description

If you suffer with problem skin, your skin needs very special treatment. The first instinct is to strip the skin of moisture in a bid to control oil production and the appearance of spots; but our experience shows this is counter-productive - in fact it just makes you produce even more oil, the opposite of what you're trying to achieve. So we've created a very light moisturiser to help your skin feel nourished and comfortable. The careful essential oil blend of chamomile german, palmarosa, yarrow, chamomile roman, carrot and myrhh combine to promote healing, reduce inflammation and promote healthy oil production.

100ml

(Shipping weight 120g)

Ingredients

Ingredients in descending order of proportion. Click an ingredient to find out more.
Product Testimonials Problem Skin Moisturiser
I have to confess that I am quite old but I don't have problem skin. However, I really don't like heavy face creams so I thought this lotion sounded rather good - it's lovely, it's light with a pleasant scent and it works well, it doesn't clog your pores and it doesn't go greasy as the day goes on. It does moisturise your skin comfortably. I'm sure if you have problems with your skin this is a very gentle but effective lotion - lovely.

Dawn
Fantastic product! I have quite oily skin and I can hand on heart say that this is the best moisturiser I've ever used, and believe me when I say I've tried out a lot! It feels lovely and nourishing going on and soaks in almost straight away to keep my skin moisturised all day. Best of all it stops my face from becoming oily as the day progresses. I was on the hunt for natural skin care products made by an ethical, sustainable company, and I'm so glad I found Pure Nuff Stuff. Highly recommended!

Rosie