Hair Conditioner - Ylang Ylang & Lime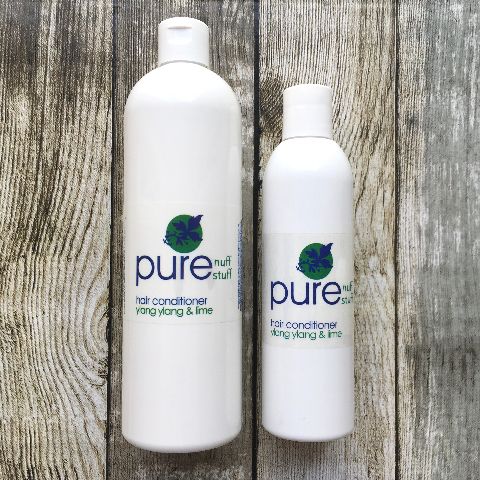 Multi-purpose Product!
Silicone and sulphate free conditioners with coconut and aloe.
Description

Hair needs oil to make it shiny and tangle free, but you don't want the oil to weigh your hair down or leave it greasier than when you started. The answer? A generous amount of virgin-pressed coconut oil, together with aloe and glycerine for their wonderful softening properties.

Scented with ylang ylang and lime essential oils but if you would like to customise it you can find it in the custom made section.

The real strength of this product is its versatility. As well as using it in the traditional wash-off fashion, it's also great as a leave-in product, which really helps to smooth out flyaway strands and keep your hair looking more styled than wild.

250ml & 500ml

(Shipping weight 260g & 550g)

Ingredients

Ingredients in descending order of proportion. Click an ingredient to find out more.
Product Testimonials Hair Conditioner - Ylang Ylang & Lime
I originally tried the intensive conditioner as I thought I had dry hair but it was too moisturising for me, so have been using this normal conditioner (along with the normal hair cleanser) and it's lovely. It has a pleasant light scent and you don't need to use a lot, best of all it leaves my very thick long hair lovely and soft and untangled. Recommended.

Dawn
Can't live without this product. As a 'curly girl', I leave the conditioner in and it leaves my hair curly and smelling wonderful. Thanks PNS

Georgina Terry
Thanks for letting us know you're so happy Georgina! - The Pure Nuff Stuff Team