Sole Food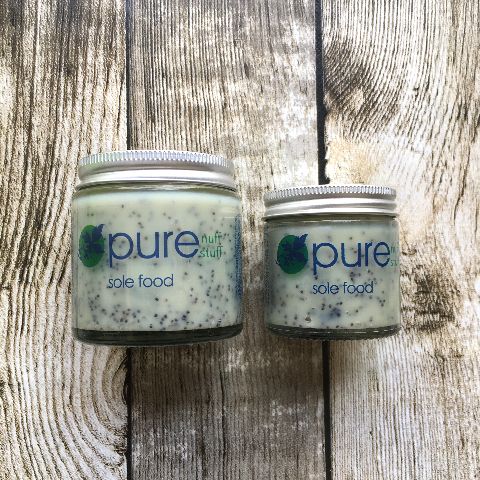 Foot treatment loaded with poppy seeds and rock salt.
Description

This is a really intensive foot scrub product that will moisturise and very gently exfoliate all in one. Feet need very special treatment, they're more tender than we like to think and that skin does some of the hardest work, plus it's expected to be both hard and flexible, tough yet attractive; put simply we ask an awful lot of our feet.

They need some exfoliation to get rid of hard skin, they need huge amounts of oil to soften and nourish, and they need a little help in the 'freshening' department, too. Normally this is achieved with three different products – but you know us, that's just not good enough for PNS, so we've put them all in one. We've lovingly whipped coconut, rapeseed and cocoa butter till it's light and fluffy, then added Dead Sea salt and poppy seeds to remove dry skin. Finally, to freshen up, we've combined peppermint with lavender and tea tree essential oils to make a sweet, fresh scent with a bit of tingle.

To use the product, take a good amount of the whipped gorgeousness into the palm of your hand and work that into your feet. The oil will melt quickly and softly, leaving you time to work the salt and poppy seeds into your dry bits. When you're done, brush away the salt and seeds and leave the oil where it is to do its job - for best result, strategically deploy a pair of cotton socks to really help keep them warm and let that oil soak right in.

60 &120ml

(Shipping weight 115g & 230g)

Ingredients

Ingredients in descending order of proportion. Click an ingredient to find out more.
Product Testimonials Sole Food
My daughter seems to really like your products and has put them top of her Christmas list!

David Roberts
That's a lovely thing to hear, thanks David! Hope Santa delivers :) - The Pure Nuff Stuff Team
Fantasy foot product! This is such a treat for my feet. A little goes a long way. It's so luxurious. Perfect for when I've been on my feet all day and it's a cold walk home afterwards. Takes the dry skin off and moisturisers in one go.

Marcia Winterburn
Oh what a lovely review, thanks so much Marcia! - The Pure Nuff Stuff Team
This stuff is magical. Longer you and leave it on the better. It has really helped soften my feet. Smells good too.

rachel gwennap